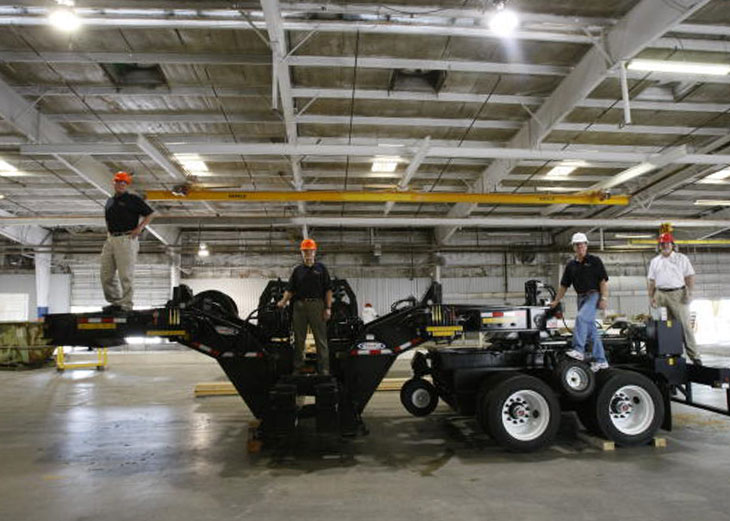 Have homes, will travel. With its way of building structures off-site, modular company aims to shake up the industry.
During a downpour on a recent morning, construction workers were busy putting up a series of buildings in Navasota, a small town about 70 miles northwest of Houston.
The rain didn't keep the crew at home that day, nor was it slowing the progress of construction. That's because the work was being done in a 250,000-square-foot warehouse.
"This is a great day to build," joked Rodney Boehm, chief operating officer of GroundFORCE, a company that builds modular homes and commercial buildings on wood and concrete slabs and then delivers them on special movers to sites across the state.
Just 2 years old, GroundFORCE hopes to change the way many homes and commercial structures are built through its off-site construction and delivery systems.
The company said its building process takes less time, creates less waste and costs 10 to 15 percent less than traditional construction.
"It's not your usual manufactured housing," said Jorge Vanegas, dean of the College of Architecture at Texas A&M University, who has studied modular construction techniques and visited the GroundFORCE factory.
Vanegas calls it "permanent modular."
That's because the structures are built in controlled environments on concrete foundations meant to last 40 to 50 years.
"I was very impressed to see some of their final products, which you would not be able to guess are modular," Vanegas said.
GroundFORCE, which sells to the residential, commercial and educational markets, recently signed a deal with Houston-based Trendmaker Homes to build a line of country homes called Texas Casual Cottages in the Hill Country.
Floor plans range from a 450-square-foot guest cottage to a 4,500-square-foot farmhouse. Prices reach more than $300,000.
Trendmaker is selling the homes to buyers who own property in rural settings where it often takes longer to build because the locations are so remote.
GroundFORCE will deliver the homes in sections, and Trendmaker will complete them with porches, roofing materials and some interior finishes.
The homes offer features including metal roofs, large porches, pine floors and wood walls, along with modern finishes like open family room and kitchen combinations, large bathrooms and walk-in closets.
"It's built just like a stick-built home. It just happens to be built in another location," said Steve Drake, a Houston-based financial consultant who owns one of the homes in Round Top.
Using same materials
Modular building has been around for decades but has often been associated with double-wides and cheap, temporary structures.
"Modular has a bad connotation. People think of trailer homes," said Boehm, explaining how the company uses all the same materials and techniques as traditional on-site construction.
'Pushing the envelope'
Vanegas said the company is "pushing the envelope" on an industry not known for its technological breakthroughs.
"It's definitely an option that offers tremendous opportunities to customize, get things done faster, and more affordable," he said.
GroundFORCE has 50 employees, including 35 factory workers. The company builds 30 to 50 homes and commercial structures in Texas a year, including convenience stores, fast-food restaurants, medical offices, and school science and learning labs.
The company would not release financial details, but Boehm said the company is profitable.
Kenneth Neatherlin, who grew up in the residential real estate business in Houston, formed GroundFORCE and patented certain key aspects of the process. His grandfather ran a house-moving business, and Neatherlin later started his own home building company that he eventually sold. He bought the factory in Navasota because he couldn't find the right property in Houston. The warehouse sits on 55 acres, giving the company plenty of room to grow.
Done in 125 days
Neatherlin says the company can complete a building and deliver it in 125 days with few change orders. The manufactured buildings have other benefits, too, including certain tax advantages through a shorter depreciation time than permanent structures. Eventually, the company hopes to recruit other builders to sell its homes. "At some point we'll simplify our system such that other manufacturers can license our system," Neatherlin said.
By: Nancy Sarnoff, Houston Chronicle