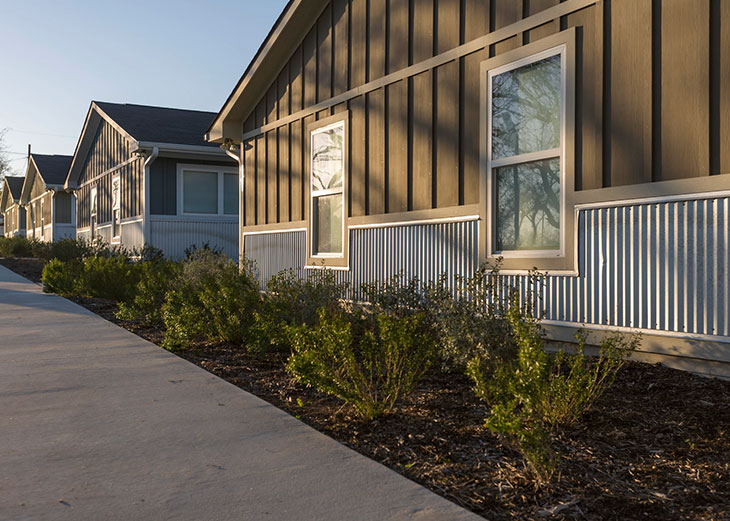 Oil and gas companies find that keeping their employees well-rested ensures safety and productivity onsite, and GroundFORCE Building Systems in Navasota, Texas, has the inventory on-hand to quickly supply them with a comfortable home.
"There are many studies out there that indicate more than 95 percent of all industrial accidents are related to lack of sleep," co-owner and President Kenneth Neatherlin says. "In the oilfield, the accident rate has skyrocketed due to increased activity. We determined that we needed to address that issue."
GroundFORCE designs and manufactures modular homes and buildings inside a quality-controlled warehouse. The company's main focus is to manufacture and deliver homes to employees of oil and gas companies in the Eagle Ford Shale area in south Texas. "We retain the ownership and the maintenance of the home and we believe in the long-term viability of the product," Neatherlin says. "Because of our unique transportable concrete floor system, there is a minimum 30-year functional life to the building. Until now, this type of quality and product lifespan has not been available."
Once the home is constructed, the entire building – along with the concrete floor – is transported to the site and set on drilled piers or footings. The concrete floor system is just like a bridge overpass with pier supports only required at the corners.
Modular homes and buildings on the concrete floor system are easily transported using GroundFORCE's patented air-ride transport technology. "We own our own truck line and operate all the equipment ourselves," Neatherlin explains. "We have a broad-based utility patent that covers our transportation system, which allows us to pick up and deliver the buildings, including the slab, without a trailer underneath it. We carry it down the highway with less than 10 inches of clearance underneath, which allows us to build the structure onto a concrete floor."
Quiet Night's Sleep
An invaluable feature for the oil and gas industry today and any industry in the future is soundproofing. Multiple studies have shown that the No. 1 cause of all industrial accidents is directly linked to lack of sleep because of sound levels and the environment.
"We determined we could mitigate the sound and reduce the decibel levels by several-fold in our units," Neatherlin attests. "We have Styrofoam in the concrete floor that deadens the sound. In our two-bedroom, two-bathroom units, you can't hear the gentleman across the way get up and go to the bathroom."
Co-owner Brad Laughlin says he learned from a company's head of operations based in the Eagle Ford Shale that employees can last about three years living in a man camp before they are worn out. "These companies are taking steps to improve their employees' living arrangements so they can protect and maintain their assets," he adds. "Man camps have small bedrooms and bathrooms, and everyone hears everyone."
Aside from the sound – or lack of it – being a major differentiator, the homes also include televisions in every room, Internet connectivity and walk-in showers.
The biggest challenge GroundFORCE faces is getting people to remove the modular home stereotype from their minds. "When we talk to a potential customer and describe what we do, it's very difficult to overcome the stereotype of a building that's transported," Neatherlin says. "In fact, it's so different from what they have traditionally understood and we go to great lengths to show that."
GroundFORCE will be opening centers with its units on display in south Texas, supplementing their current developments in the area. People will be invited to come and walk through the units to see how different the company's homes are from what they imagine. "We can work through that stereotype we fight every day," Neatherlin adds.