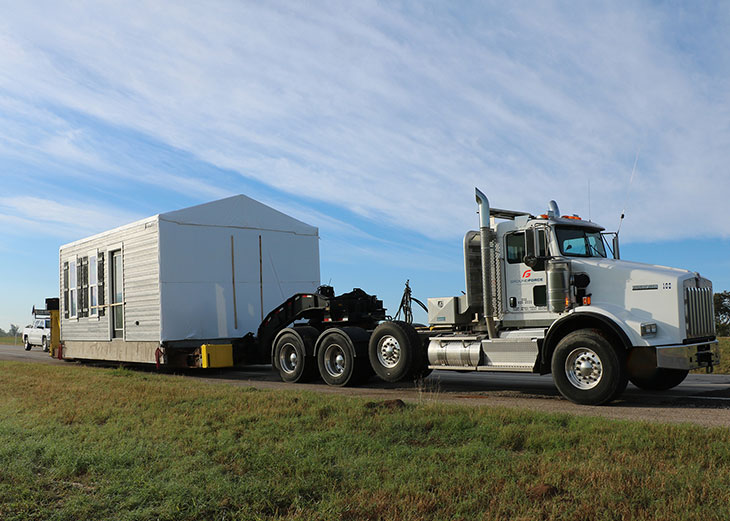 Navasota, Texas based company with one-of-a-kind off-site construction technology plans to expand its medical facility and commercial office product offerings.
GroundFORCE Building Systems, the Navasota-based company whose off-site construction technology has been successfully used in schools and medical clinics around Texas, has expanded its market territory with the opening of a new office in Houston.
Vantex Commercial Property Group, a Houston-based company with over 30 years of commercial real estate experience, has joined forces with GroundFORCE to represent its patented construction technology in the growing medical and commercial office market segments, including the Eagle Ford Shale oil boom in southwest Texas.
"We believe there is a critical need for the unique GroundFORCE construction process," said Stephen H. Jaggard, President of Vantex. "We plan to use the recently opened St. Joseph Health Care System's "Super Clinic" in Brenham, Texas, as a showcase of what is possible for the medical market. The same technological advantages are available for general office facilities as well. There is a need for this type of product, which is built off-site then delivered to the site in 125 days or less. Once it's finished you can't tell it wasn't site-built."
GroundFORCE technology provides an innovative and structurally sound solution to building medical facilities and commercial structures. The system has been used to build schools, residential housing, offices and medical facilities throughout Texas. GroundFORCE buildings are constructed off-site in a quality-controlled environment and built to national and state codes. They feature a structurally suspended concrete foundation and flooring system designed to be set in shifting soils, which is important in Texas, where shifting soils often lead to costly foundation repairs. Because the GroundFORCE flooring system is not affected by shifting soils, it virtually eliminates foundation damage caused with traditional flooring foundation systems.
The buildings have an expected life span of more than 50 years, compared to less than 10 years for portable buildings. They are environmentally friendly and can be built to LEED standards.
"It's truly a revolutionary process and the perfect solution for many applications," said Kenneth Neatherlin, GroundFORCE President and CEO. "With GroundFORCE, construction time is reduced, but the buildings are of the highest quality, and we're the only company offering this type of product.
"Vantex (formerly Vantage Houston) and its team was a logical choice to help us grow by approaching a different user base than we had been working," he said. "They understand the commercial market and have a solid reputation because of their successes. Their contacts and relationships with the brokerage community will add a new dimension for us."
Construction on the St. Joseph Super Clinic began the day after Thanksgiving 2011, and clinic doctors were seeing patients on February 25, 2012. The new 9400 square-foot "Super Clinic" incorporates three medical services: a family medicine practice, a St. Joseph Express walk-in clinic, and a diagnostic/imaging center.
A major factor in the success of this off-site construction technology is the company's patented "air-ride" delivery method. The buildings travel only a few inches above the road, which allows for 9-10 foot ceiling heights, since they will easily clear underpasses and overpasses.
The buildings are also adaptable - offering flex-space, multi-purpose use, and even a change in location as demand changes. "Our buildings can be a hospital one day and a hotel the next; we can add onto them quickly; and they can be moved to different locations," Neatherlin said.
GroundFORCE is currently building Head Start schools in Zapata and Rio Grande City and 1400-square-foot homes for border patrol and DPS officers in Hebbronville, who are now driving 60 miles each way to their homes in Laredo. It has built schools, retail, and other types of structures all over Texas. In addition to Houston and Navasota, GroundFORCE presently has offices in Dallas and Austin.