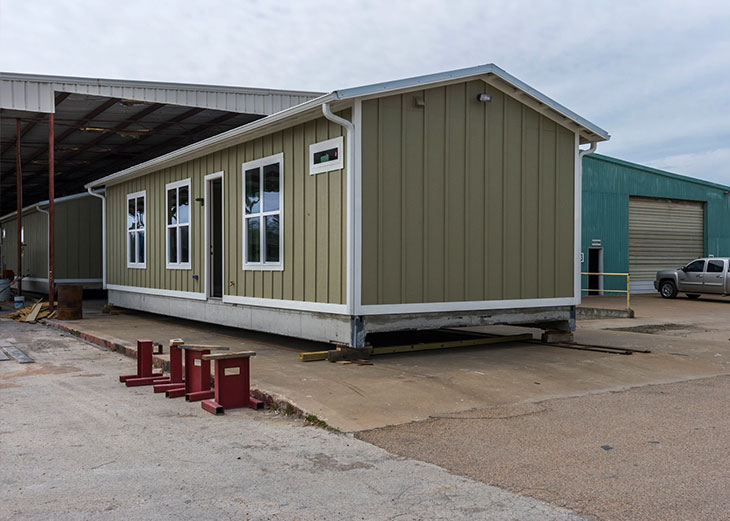 GroundFORCE Building Systems has announced that it plans to use its one-of-a-kind off-site construction technology to build much-needed permanent residential housing and commercial buildings in the 24 counties where Eagle Ford oilfields are located.
Housing shortages in the mostly rural areas around the Eagle Ford project have led to sharp spikes in rental costs and the proliferation of man camps, trailers and other portable housing unsuitable for family living.
"Oilfield workers want to have their families with them, so there is a high demand for quality housing," said Kenneth Neatherlin, GroundFORCE President & CEO.
The company's technology provides an innovative and structurally sound solution to building homes and other structures in remote locations. Often used in schools and medical centers, GroundFORCE buildings are constructed off-site and built to national and state codes. They feature a structurally suspended concrete floor designed to be set in shifting soils, which is important in Texas, where shifting soils often lead to costly foundation repairs. Because the GroundFORCE flooring system is not affected by shifting soils, it virtually eliminates the foundation damage caused with traditional flooring foundation systems.
The buildings have an expected life span of more than 50 years, and they are environmentally friendly and can be built to LEED standards.
"It's truly a revolutionary process and the perfect solution for rural areas, where you may have to drive two or more hours to buy building supplies," Neatherlin said. "With GroundFORCE, construction time is reduced, but the buildings are of the highest quality. We're the only company offering this type of product."
A major factor in the success of this off-site construction technology is the company's patented "air-ride" delivery method. The buildings travel only a few inches above the road, which allows for 9-10 foot ceiling heights, since they will easily clear underpasses and overpasses. Modular buildings, which travel on a truck bed, cannot reach these ceiling heights.
The buildings are also adaptable - offering flex-space, multi-purpose use, and even a change in location as demand changes. "Our buildings can be a hospital one day and a hotel the next; we can add onto them quickly; and they can be moved to different locations," Neatherlin said.
Neatherlin notes that the adaptability of this system is well-suited to the unpredictability of the oilfield industry, which experiences high and low swings in demand. "The use, size and location of these buildings can change with the industry's ups and downs," he said.